Buying baby stuff is an exciting thing, but it comes to your little one's crib. What are your standards in choosing the crib? Do you go over quality over quantity or vice versa?
When you are investing in a crib, there can be so many details you must consider. You will need to know what kind of materials crib made from, the design, the colors, the mattress, and if you want it to be a crib that grows with your child.
When you go to the kids' section, you are looking at all kinds of cribs. But you couldn't decide which one to purchase. Most of the mothers prefer to buy cribs that are sure to last until their baby grows into a toddler.
In this article, you will find out how much weight can a crib hold. I think this information would be helpful to you.
---
Crib's Weight Restriction
Cribs weight restriction is equally important. Cribs come in various sizes, designs, and quality. The most challenging part is when you ask from the sellers how much weight can the crib hold, and they don't give you an honest response because their only purpose is to sales their products.
Sellers don't give you every single detail to know about product, materials, and how much weight it can hold.
When you go to the stores to purchase the crib, the first thing you will notice is that cribs have different materials and quality.
The crib weight restriction finds the kind of material utilizes and uses wood including maple, oak, and ash. Search every part of the crib to determine its weight restrictions. There is no better way to convince you about the crib than researching by yourself.
How much weight can a crib hold?
If you have a crib or you want to purchase it, it is important to know how much weight can hold a crib. Some cribs that can make you think they are durable and can secure your baby's weight.
Some cribs can be unreliable in their looks, and they will not be able to secure the weight they might show to you. Cribs can hold weight as little as 35 pounds (16 kilos) and up to about 50 pounds (22.6 kilos).
These types of cribs are perfect for infants between 0 to 4 years of age.
Material Affect a Crib can Hold the Weight
How much extra weight your crib can hold will depend on more than the material? The weight restrictions are putting into the place where the type of material uses on the bottom of the crib.
If there's plywood support, the crib cannot hold the maximum amount of weight due to the flimsy material. If there are slats with wood covering them, the cribs are going to be ready to support more weight.
Should You Get in the Crib with Your Child?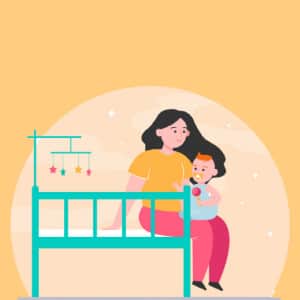 Parents always want to cuddle their babies. They always think can I lay in the crib with my baby?
We know that there are many benefits of co-sleeping but you have to do it the right way. Here are some important tips you have to make sure when you lay with the baby.
Most cribs are not carrying adult weight so they can't guarantee them to hold an adult sleeping beside kids, because the materials are not durable enough when excessive weight put into it.
You have to wait longer your baby falls asleep; don't try to lie down quickly. Try and get the baby to nod off cuddle next to you, instead of letting her use your chest as a mattress. You don't take the risk for your baby safety, you should always be careful.
Height and weight Limits for Cribs
Baby cribs have a height limit of around 36 and no weight limit. Most baby cribs change to a toddler bed when your little one can climb out of the crib. It is to keep your baby safe and from hurting itself.
Baby cribs have a weight limit of 5 pounds or 50 pounds for your baby 2 years old. If you need to replace the mattress your baby sleeps on.
You will find height restriction on some cribs rather than a weight limit. If you are a tall, but thin, a toddler may find cramp in the crib because most cribs will hold children up to 36 unless they exceed the maximum weight limit.
All crib weight and height guidelines are essential to your child's safety.
Baby Crib's Height Restriction
Do you know as the weight has some effects on crib same like baby's height also affects crib? If someone's baby reaches to the height above or equal than 35 inches then he/she should turn crib into toddler's bed. Below are some guidelines to set up a safe sleep area for babies as babies shorter than 35 inches can't crawl at all.
Below some stages are given
Newborn Stage is the highest setting planned for newborns up to four months who cannot roll or push themselves up.
For 5 to 8 Month Babies Stage is for those who can sit, roll or push up. It is the stage of the middle mattress setting. Usually, this is for 5 to 8 months old babies.
Third Stage for babies who can pull themselves up to a standing position Stage 3 is the best.
Fourth Stage is for toddlers larger than 35 inches who can climb or crawl and this stage is a toddler bed stage.
Typical Baby Weight And Height Comparison Table
keep in mind, weight and height gain is different for all babies, but below given research can give you an idea.
| Age (Months) | Weight(Pounds) | Height (Inches) |
| --- | --- | --- |
| 12 | 19 to 21 | 29 to 30 |
| 15 | 21 to 22 | 30.5 to 31 |
| 18 | 22 to 24 | 31 to 32.5 |
| 21 | 24 to 25.5 | 33 to 33.5 |
| 24 | 26 to 28 | 34 to 35 |
From the above figures you can check , mostly babies will outgrow their cribs in height as compared with weight. 50 pounds (22.6 kilos) is almost enough for any baby unless he/she is less than 2 years old.
Climbing in the Crib
It recommends you to use a crib is only until they begin climbing. Height and weight restrictions are in place when you have a calm and easy-going child.
If your child is tall to fit in their crib, you will move them into a toddler bed. The length of the crib is usually not adjustable, so they support a child up to the full length of the bed before it becomes a cramp.
If your child is climbing out of their crib, you should buy a breathable tent to place over the top of the crib. It keeps your child safe in the crib.
The height might cause issues with the crib. 66% of injuries involve babies from a crib. Parents and caregivers have to understand when they should lower their baby mattresses.
When a mattress uses with the crib and the actual height of the crib side is 20 inches. These crib regulations also require information for the caretaker to stop using the crib when the child's height is 35 inches.
Many children can climb from cribs with side rail heights of 26 inches. When the crib side-rail height is raising more than 26 inches the frequency of children climbing over the crib rails decrease.
Can All Cribs Hold the Same Weight?
All materials are not made in the same materials or built the same way. All cribs can hold a different amount of weight. So it is important to purchase the right crib for your needs. Generally, cribs can hold 35 to 50 pounds.
Now we have to know how much weight mini, portable, and babyleeto can hold the weight.
1. Mini Crib Weight Limit
You may be looking for a mini crib instead of a standard size crib. Mini cribs are much smaller than standard crib size, and some models come with wheels, which make it easy to move.
The average standard crib mattress is 28 inches wide and 52 inches long, while the average mini cribs mattress is 24 inches wide and 38 inches long. Most mini cribs can hold 22 to 40 pounds. They tend to support less weight than a standard crib.
The weight limit for a mini crib isn't standardized. It is specified by each maker and labelled on the product box or the crib itself.
2. Portable Crib Weight Limit
The portable folding crib that permits the crib to fold flat for compact storage or travel and stationary rail design which provides the utmost in product safety.
The portable crib has safety hooded, locking wheels, and convert from crib to playpen with one hand. Portable crib weight only 32 pounds, this crib is easy to handle.
3. Babyletto Crib Weight Limit
Babyletto crib weight is 50 pounds for toddler bed conversion. Full-size bed conversion, the weight limit is 500 pounds.
The maximum weight capacity will differ depending on what company produces the crib. However, all cribs are focus on the same safety tests.
What is the Crib Maximum Weight Capacity?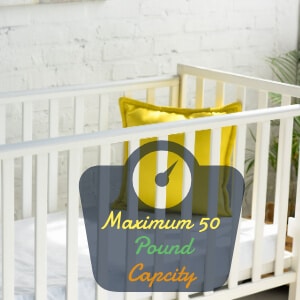 Crib maximum weight capacity is a 50-pound limit, so you have to avoid into the crib with your baby. You know that all parent's weight has more than 70 to 100 kilos or more than that, so it is risky for babies or there are chances of injuries.
A crib generally holds between 35 to 50 pounds. Most cribs state the crib maximum weight capacity it can hold, and it will not accommodate an adult's weight.
How Long a Crib Last?
It depends on buying a crib. You have to make sure before buying the crib how much weight a crib hold. Can you imagine how dangerous it can be for your baby if it breaks while he and you are inside the crib?
Although cribs mostly hold the same weight, the material it is made from will determine how far it can go over the weight limit.
You have to choose materials that can reduce the risk of breaking the crib by an adult climbing into the crib.
The extra weight of crib will depend on more than just the material, but you have to focus on the hardness of the wood because the harder it is, the less likely it will give way.
Conclusion
Crib weight hold depends on the use of the materials to make the crib. If the material is durable, it can support the weight of your baby. Checking material should be one of the top priorities.
Cribs come in various colors, sizes, shapes, and qualities. You have to make sure to choose the best one for your baby.
I hope by reading this article, you will know about all crib's weight limits and including how much weight can a crib hold?